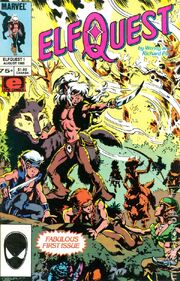 In 1985, the original WaRP magazine series was reprinted by Marvel in colored, comic book-size issues. There were 32 installments with additional bridging pages by Wendy Pini, which have since been (for the most part) incorporated into subsequent prints and online editions. Being published under Marvel Comics's Epic imprint gave the series some much-needed mass-market exposure, as they could be found in both comic shops and newstands everywhere. However, the license was only for the original series, so none of the sequels were printed by Marvel.
The first issue (Fire and Flight ) was released in August of 1985, the last (Quest's End Part 2 ) in March of 1988. Each issue is comprised of 36 pages, 14 of which are ads. A full list of each issue can be found on the publications page.
Ad blocker interference detected!
Wikia is a free-to-use site that makes money from advertising. We have a modified experience for viewers using ad blockers

Wikia is not accessible if you've made further modifications. Remove the custom ad blocker rule(s) and the page will load as expected.