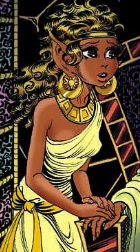 Ahdri
Biographical information
Relations
Chronological and political information
| | |
| --- | --- |
| Position | Handmaiden to Savah |
First serving as Savah's handmaiden, Ahdri eventually gained rock-shaping abilities from the magic of the Palace. She used this to defend the village from Go-Backs and Humans, and eventually to tunnel out her people as the village was destroyed. After being shot by an arrow, Ahdri was cocooned by Preservers for many years, and forced to dig up gems for Trolls while in the wrapping. Eventually she was rescued by Clearbrook and Treestump, healed by Leetah, and reunited with Windkin.
Ad blocker interference detected!
Wikia is a free-to-use site that makes money from advertising. We have a modified experience for viewers using ad blockers

Wikia is not accessible if you've made further modifications. Remove the custom ad blocker rule(s) and the page will load as expected.