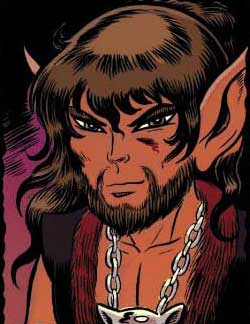 Bearclaw

†
Biographical information
Physical description
Relations
Chronological and political information
Image gallery (1)
Bearclaw, son of Mantricker and Thornflower, was the tenth chief of the Wolfriders, lifemate of Joyleaf, and father to current chief Cutter. Bearclaw was known for having quite a temper, and led his tribe of forest-dwelling elves in a time when indigenous humans started respecting less and less the "point-eared" demons. Bearclaw followed his ancestor Two-Spear's path to war, which eventually led to the death of many fellow Wolfriders such as Shale, Eyes High and Crescent.
Years later, his own lifemate Joyleaf was killed -along with four other elves- by Madcoil, a half-longtooth, half-snake monster born from a pool of stagnant magic brought to life by lightning, and the rage of Bearclaw and the humans' shaman. Devastated by grief, Bearclaw faced Madcoil himself, and was subsequently killed, but not before he could pass the chieftainship to his son. Bearclaw had long brown hair, dark eyes and face fur in the form of a short beard and mustache. He was well considered as quite an elf by the local trolls, including Picknose, for his gambling skills and his ability to hold his liquor. His wolf-friends included Crest and Blackfell, and Snapper in "Wolfrider".
Genealogy
Edit
XXX

represents extended family

XXX

represents a chief of the Wolfriders
Ad blocker interference detected!
Wikia is a free-to-use site that makes money from advertising. We have a modified experience for viewers using ad blockers

Wikia is not accessible if you've made further modifications. Remove the custom ad blocker rule(s) and the page will load as expected.