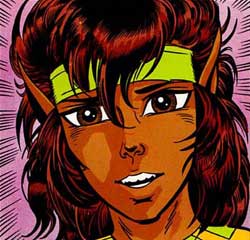 Dart
Biographical information
Physical description
Relations
Chronological and political information
Image gallery (4)
Dart
, the leader of the
Jackwolf Riders
and protector of
Sorrow's End
, is the son of
Moonshade
and
Strongbow
, the brother of
Crescent
and Chitter, and the father of
Bowki
.
Character Sketch
Edit
Dart was four years old when he and the other Wolfriders were burned out of the Father Tree Holt. Although he was born a Wolfrider, he considers the Sun Village his real home. Dart chose to stay behind with the Sun Villagers to become their hunter, protector, and teacher. He leads what have become known as the Jackwolf Riders. The battle with the Go-Backs over the Little Palace changed something inside Dart. He worked to rebuild the Sun Village, but could not escape the memories of the battle and the death of his soul brother, Shushen.
Being sealed in wrapstuff did not prevent his Recognition by Serrin, the daughter of Wing and Behtia. He joined in a three-mate with Serrin and Talmah. It was their son, Bowki, who brought Dart a measure of happiness again and a chance to forget the past for a while. Dart has led the Jackwolf Riders on a quest of their own. When Windkin traveled to the Forevergreen Forest in search of the source of a strange sending, Dart and his small band (made of Kimo, Dodia, Yun, Jethel, Chot, Shenshen, and Suntop) followed. After their adventure in the Forevergreen Forest, Dart returned to the original Father Tree Holt with his parents.
Genealogy
Edit
XXX

represents a chief of the Wolfriders
Ad blocker interference detected!
Wikia is a free-to-use site that makes money from advertising. We have a modified experience for viewers using ad blockers

Wikia is not accessible if you've made further modifications. Remove the custom ad blocker rule(s) and the page will load as expected.