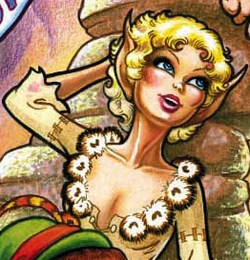 Dewshine
Biographical information
Physical description
Relations
Chronological and political information
Image gallery (2)
Dewshine is a hunter of the Wolfriders tribe, daughter of Treestump and Rillfisher†, niece of Joyleaf† and cousin of Cutter, three-mate of Scouter and Tyleet, mother of Windkin, and second-mother of Pool. At a young age she Recognized the Glider Tyldak, with whom she had Windkin.
Soul name
Edit
Lree is the soul name of Dewshine of the Wolfriders tribe. Her name is known by Tyldak, who she Recognized, her lifemates Scouter and Tyleet, and by the treacherous Winnowill.
Winnowill overheard Tyldak using Dewshine's soul name outloud, and since then has abused its use to gain a measure of control over Dewshine. After being lovemates with Scouter for centuries, and raising her son by Tyldak, Windkin with him Dewshine gives her soul name to Scouter and Tyleet whom he recognized.
Personality
Edit
Dewshine is both bright and courageous. Despite her lithe figure, she has a core of pure steel and is not to be underestimated.
Genealogy
Edit
XXX

represents extended family

XXX

represents a chief of the Wolfriders