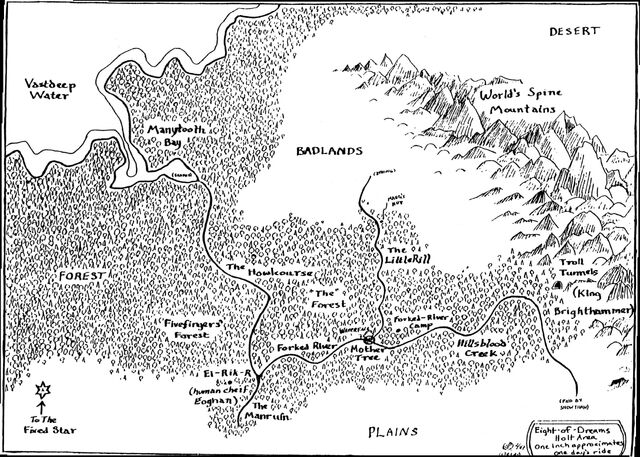 Map of the Eight-of-Dreams Holt, a fan made holt.
The holtmap was drawn based upon the only official Elfquest map then in existence, which was drawn by Yurek Chodak and Richard Pini as part of the Elfquest role-playing game (RPG) published by Chaosium Inc. in 1984. The Eight-of-Dreams area map is a blow-up of the lower left (southwestern) part of the RPG map, and was drawn in the same style. The most current official Elfquest map is the map of Abode, Plate 13 of The Wolfrider's Guide to the World of Elfquest by Theresa Robeson. With reference to the map of Abode in the Guide, the Eight-of-Dreams holt area is on the southern coast of the continent of Iceholt, south of Blue Mountain and north of Wavedance.
File history
Click on a date/time to view the file as it appeared at that time.
Ad blocker interference detected!
Wikia is a free-to-use site that makes money from advertising. We have a modified experience for viewers using ad blockers

Wikia is not accessible if you've made further modifications. Remove the custom ad blocker rule(s) and the page will load as expected.