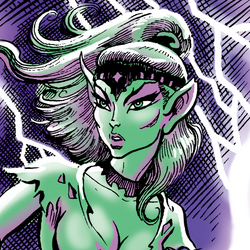 Huntress Skyfire

†
Biographical information
Physical description
Relations
Chronological and political information
| | |
| --- | --- |
| First appearance | ElfQuest: Blood of Ten Chiefs #3 - Swift-Spear |
Huntress Skyfire is the fifth chief after the tribe splits. The daughter of Prey-Pacer and Wreath, she has a half-brother Two-Spear and half-sister Dove. She challenges Two Spear for the right to lead the Wolfriders, which leads to the original split of Go-Backs and the tribe for whom she is chieftess.
Huntress Skyfire recognizes and lifemates with Dreamsinger, a wild elf. Little is known about him only he's murdered by Stonethrower who tried to kill her as well. Before Dreamsinger's death they had two children, Freefoot and Nightstar.
She is contemporary of Stonethrower and Wood Biter.
Ad blocker interference detected!
Wikia is a free-to-use site that makes money from advertising. We have a modified experience for viewers using ad blockers

Wikia is not accessible if you've made further modifications. Remove the custom ad blocker rule(s) and the page will load as expected.