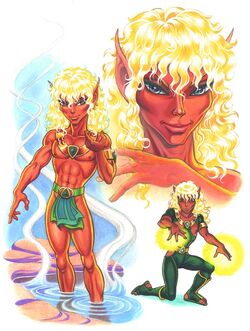 Mender
Biographical information
Relations
Chronological and political information
Though born and raised in the Sun Village, Mender is a full-blooded Wolfrider. The son of Woodlock and Rainsong, Mender inherited the healer's gift of his grandfather, Rain - but got his full share of Wolfrider fierceness as well. When the Go-Backs invaded the Sun Village to steal the Little Palace, Mender surprised even himself with his fierceness. Mender has always held Cutter and Leetah to be his heroes, and many of his life-decisions have been based on that admiration. Mender seeks a balance between the wolf and healer in him, striving to gain equilibrium as Leetah, the greatest of healers, and Cutter, the mightiest of warriors, have managed to find. When Mender learned of Cutter's long sleep to await the Palace's return, he was drawn to join them in suspended animation.
After the Palace returned, Mender traveled to Thorny Mountain Holt to train under the auspices of Leetah. His dreams were fulfilled when he accompanied the Wolfriders to retrieve the Palace shards - his first quest under the legendary Cutter's leadership. After that quest was fulfilled, he joined Ember at Howling Rock Holt to track down the rest of Winnowill's creatures. He now vies for Ember's affections with his enigmatic rival, Teir.
Mender is the youngest son of Rainsong and Woodlock, and brother to Newstar and Wing. Through Wing, he is the uncle and great-uncle to Serrin and Bowki, and through Newstar, he is the uncle of Kimo. He may or may not be the nephew of One-Eye through Woodlock, and the cousin of Scouter.
Ad blocker interference detected!
Wikia is a free-to-use site that makes money from advertising. We have a modified experience for viewers using ad blockers

Wikia is not accessible if you've made further modifications. Remove the custom ad blocker rule(s) and the page will load as expected.