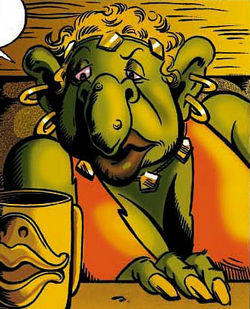 Oddbit
Physical description
Relations
Oddbit embodies all the maidenly virtues: greed, deception, opportunism, manipulativeness, coyness, vanity, and fickleness. She is the ultimate material girl, adorning the footstools of both King Greymung and King Guttlekraw. Oddbit kept Picknose hanging on for years. When Picknose became king of the Frozen Mountain trolls, Oddbit sensed that the ante was finally high enough and agreed to be his queen. However, true to her troll-gender, she had second thoughts when Picknose lost his crown, wanting to "stay behind and take her chances." Picknose was having none of that, and dragged her off. Oddbit made the best of it. Oddbit regained a crown in the New Land where she became the matriarch of an entire colony of trolls with her persistent sweetheart.
Ad blocker interference detected!
Wikia is a free-to-use site that makes money from advertising. We have a modified experience for viewers using ad blockers

Wikia is not accessible if you've made further modifications. Remove the custom ad blocker rule(s) and the page will load as expected.