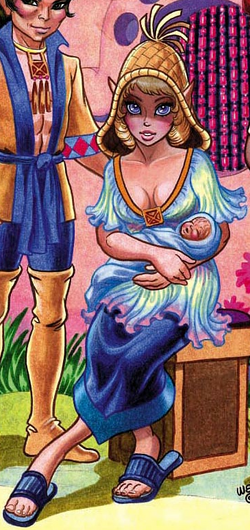 Rainsong

†
Biographical information
Relations
Chronological and political information
Image gallery (3)
Rainsong devoted her whole being to her family. She gave birth to three children - Newstar, Wing and Mender - within a dozen years, a feat unique among elves. Most definitely Recognized to Woodlock, Rainsong was defined by her family, and the yardstick by which all other mothers were measured. She was quiet and nurturing - always putting her family first. Rainsong and her family took readily to life in the Sun Village, so much so that they chose to remain when most of the Wolfriders left in search of Cutter. Life was full for her, and she walked the path to its natural end and died of old age.
Ad blocker interference detected!
Wikia is a free-to-use site that makes money from advertising. We have a modified experience for viewers using ad blockers

Wikia is not accessible if you've made further modifications. Remove the custom ad blocker rule(s) and the page will load as expected.