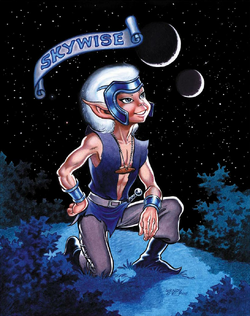 Skywise
Biographical information
Physical description
Relations
| | |
| --- | --- |
| Allies | Cutter first and foremost |
Chronological and political information
| | |
| --- | --- |
| Position | Adviser, stargazer |
Image gallery (3)
Skywise is a Wolfrider and "brother in all but blood" with his chief,Cutter. His soul name is Fahr and is known by Cutter.
Character Sketch
Edit
Orphaned at birth, Skywise is the resident astronomer of the Wolfriders. His name comes from his passion for the stars. While Skywise had always been Cutter's counselor, confidant, and close friend, the relationship between them changed dramatically when the Palace returned from its ten thousand year trip forward in time. The now vast difference in their ages and the loss of Skywise's wolfblood has created a gulf between the "brothers in all but blood". For a brief time, Skywise was advisor to Ember and after a somewhat rocky start, they both got the hang of things. Nothing, however, can diminish Skywise's jovial and rakish manner, or his way with the ladies.
Skywise has fathered at least one child, Yun, outside of Recognition with an unidentified Go-Back mother. Since Timmain's return to the Wolfriders, Skywise has been a drawn to her and she to him. They have become virtually inseparable, giving rise to speculation that Skywise and Timmain are destined to Recognize one another. He increasingly feels like an outsider to his own people but after the Palace Shards were reunited and the Palace left the bonds of the World of Two Moons, Skywise knew that he was truly where he belonged.
Geneaology
Edit