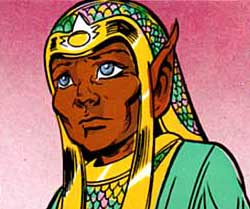 Sun-Toucher
Biographical information
Physical description
Relations
Chronological and political information
Image gallery (1)
Sun-Toucher of the Sun Folk is the administrative head of Sorrow's End, lifemate of Toorah, and father of Leetah and Shenshen.
Though blind, Sun-Toucher is wise in matters of perception. His eyesight was lost by his staring at the Daystar for too many years - but outer sight appears to have been exchanged for the inner kind. He is one of the oldest members of the Sun Folk, and became a mentor of sorts to Skywise, based on their mutual curiosity regarding the workings of the heavens. Sun-Toucher is the day-to-day leader of the Sun Folk, and was the first to accept the Wolfriders into the Sun Village. Sun-Toucher is fair, judicious and an important source of advice for the entire village.
Relations
Edit
Lifemate of Toorah; father of Leetah and Shenshen; grandfather of Suntop and Ember
Genealogy
Edit
XXX

represents extended family
Ad blocker interference detected!
Wikia is a free-to-use site that makes money from advertising. We have a modified experience for viewers using ad blockers

Wikia is not accessible if you've made further modifications. Remove the custom ad blocker rule(s) and the page will load as expected.