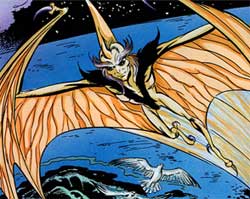 Tyldak
Biographical information
Relations
Chronological and political information
| | |
| --- | --- |
| Position | Hunter, wanderer |
Image gallery (1)
Tyldak
was a member of the
Gliders
of
Blue Mountain
. Enamored by the idea of true flight, rather than merely "gliding", he had
Winnowill
flesh-shape
his body to resemble the wings of a bat.
Character Sketch
Edit
Tyldak was a Glider who had been given the gift of wings. Obsessed with being able to fly rather than merely glide, he begged Winnowill to shape his body to let him soar with the birds. His wings allow him to glide on air currents, augmenting his Glider magic. When Lord Voll learned that Tyldak had Recognized Dewshine, the Lord of the Gliders begged Tyldak to reconsider. He fathered a child, Windkin, but has extremely little contact with him through the years. Tyldak became Kahvi's constant companion. Intensely devoted to her, Tyldak feels that he must protect Kahvi from herself. Although he often tried to dissuade Kahvi, Tyldak supported her in all she did. However, Tyldak stopped short of helping her steal the Egg of Six Spheres from Aurek. 
Tyldak was eventually killed by humans in his travels with Kahvi.  Kahvi and Windkin split soon after burning his body
Genealogy
Edit
XXX

represents extended family
Ad blocker interference detected!
Wikia is a free-to-use site that makes money from advertising. We have a modified experience for viewers using ad blockers

Wikia is not accessible if you've made further modifications. Remove the custom ad blocker rule(s) and the page will load as expected.