Vaya
Biographical information
Physical description
Relations
| | |
| --- | --- |
| Siblings | Venka (half-sister), Teir (half-brother), probably many more |
Chronological and political information
Image gallery (4)
Vaya was the daughter of Kahvi and a warrior in the Go-Backs tribe.
Biography
Edit
Vaya was the daughter of Kahvi and one of the top warriors in the Go-Backs tribe. She got to know the Wolfriders after the Go-Backs rescued them from the Troll Ambush and brought them back to their lodge. During their stay, she sparred with Clearbrook who, in her rage after One-Eyed's fall, forced Vaya to yield. She also became friends with Pike and joined with him in the pre-war celebrations.
She joined her tribe and the Wolfriders in their war against Guttlekraw's trolls and fought fearlessly in the Mine-Pit Fight. During the fight, Vaya realized Kahvi would never willingly be the last to leave the battle. She therefore struck Kahvi with her mace, stunning her, and forcing her comrades to pull Kahvi away from the fight. Vaya continued fighting, protecting Go-backs and Wolfriders as they made their escape, and eventually ending up being the last one left. Unfortunately, as Vaya tried to make her own escape, she was grabbed by Guttlekraw's trolls and dragged away.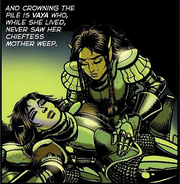 Brought before Guttlekraw himself, Vaya refused to answer his questioning, and remained defiant. Finally, in face of threats of torture and death, she grabbed a knife from one of the troll guards and leaped towards Guttlekraw in an attempt to end his life. Her attempt failed, as she was struck down by his guards before she could reach him.
Two-Edge later took Vaya's body and placed it in the Great Vault, dressing it in one of his armor.
After Guttlekraw's defeat, Vaya was put in the Ring of Honor along with the other fallen Go-backs. As Kahvi placed her on top of the pile, she wept over her daughters lifeless body. While alive, Vaya had not once seen her mother shed tears.
Personality and traits
Edit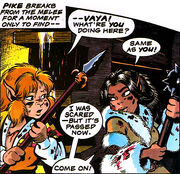 Vaya had much the same personality and traits as Kahvi. Hotheaded and aggressive she had a knack for combat and was "not used to being put on her guard", as Kahvi once noted.[1] Although a great fighter, she was also young, and her courage almost failed her during the Mine-Pit Fight. Nevertheless she overcame her worries and proved herself to be just as fearless and defiant as her mother.
Genealogy
Edit
Notes and references
Edit
↑ Pini. Elfquest, No. 16: The Go-Backs. P. 27.