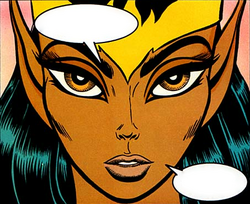 Venka
Biographical information
Physical description
| | |
| --- | --- |
| Powers | Telepathic Shielding |
Relations
| | |
| --- | --- |
| Siblings | Vaya (half-sister) †, Teir (half-brother), probably many more |
Image gallery (2)
Venka
is a magic user, huntress, gatherer, and guard.
Biography
Edit
Venka is cool, serene, and tranquil, an unexpected, beautifully balanced mix of her Go-Back mother, Kahvi, and Sun Villager father, Rayek. Her impassive face is rarely crossed by emotion which makes her hard to fathom. Though Venka was planned to be Kahvi's revenge on Rayek, the Wolfriders completed her upbringing by teaching her to love and not to hate - and love has the power to change many things. Venka had the power to prevent Rayek from merging the two Palaces of the High Ones. Wisely, she refused to stop him, telling Rayek that it must be his choice.
Resentment is an emotion unknown to Venka. She knows who she is and is comfortable with it. It gives Venka a center, a calmness. Venka's strong magic ability works something like Zhantee's shielding, save that it is for sendings rather than physical threat. She spent many years protecting the Wolfriders from Winnowill's black sendings and probes, first encountering her nemesis as a very young cub. During the quest to recover the Palace shards, Two-Edge became her smitten protector. Because Rayek absorbed the Black Snake's spirit, Venka is now free from Winnowill, and has set out to learn what happened to her mother, Kahvi.