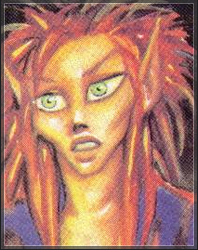 Zarhan FastFire
Biographical information
Relations
Chronological and political information
| | |
| --- | --- |
| First appearance | ElfQuest: Blood of Ten Chiefs #1 - COLORS |
Image gallery (1)
Zarhan FastFire was the lifemate of Rahnee the She-Wolf and father of Prey-Pacer. He was the last elf who could control fire.
He met with Timmorn Yellow-Eyes before Timmorn became more wolf-than-elf. Timmorn then asked Zarhan to marry Rahnee.
Ad blocker interference detected!
Wikia is a free-to-use site that makes money from advertising. We have a modified experience for viewers using ad blockers

Wikia is not accessible if you've made further modifications. Remove the custom ad blocker rule(s) and the page will load as expected.